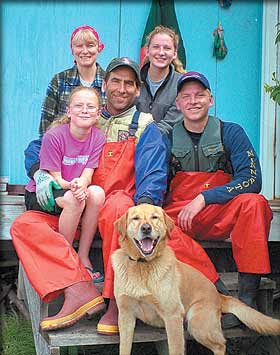 Senator Loren Leman is a lifelong Alaskan
who has served in the Alaska Legislature since 1989.
Loren was raised in Ninilchik on the Kenai Peninsula. He traces his Alaska ancestry to the first Russians who settled on Kodiak in the late 1700's and married the Aleuts and Alutiiq. Loren attended school in Ninilchik and later studied engineering at Oregon State University, Stanford University and the University of Alaska Anchorage.
In addition to serving in the Senate, Loren works as a consulting civil/environmental engineer and a commercial fisherman. He and his wife Carolyn live in west Anchorage with their children Joseph (20), Rachel (17), and Nicole (11). Joseph has completed his second year at the Air Force Academy in Colorado Springs.
In the Alaska Senate, Loren represents Seat G, which includes the west Anchorage neighborhoods of Turnagain, Spenard and Bootleggers Cove as well as Elmendorf Air Force Base, Government Hill and a portion of east Anchorage near Russian Jack Park.
Loren currently serves as a member of the Senate Finance Committee, Labor & Commerce Committee and the Health, Education & Social Services Committee. He has previously served as Chairman of the Senate Resources Committee and the Senator Labor & Commerce Committee. He also serves as a member of the Executive Committee of the Energy Council and as an ex-officio member of the Exxon Valdez Oil Spill Trustee Council's Public Advisory Group and the Alaska Seafood Marketing Institute.
For his accomplishments in the Legislature, Loren has been recognized by several state and national organizations:
Friend of Emergency Medical Services Commendation, presented by the Alaska Council on Emergency Medical Services

Civil Government Award, presented by the American Society of Civil Engineers
Defender of Freedom Award, presented by the National Rifle Association
Guardian of Small Business Award, presented by the National Federation of Independent Business
Guardian of the Home Award, presented by the Alaska Private & Home Educators Association


For more information on Loren's accomplishments in the Alaska Legislature, please visit his legislative website at www.akrepublicans.org




Loren works with "Mother" Alice Lawrence
to serve needs in Mountain View.